Ras Al Khaimah proudly presents an array of sophisticated and luxurious resorts and spas that offer unforgettable experiences, combining comfort and enjoyment. These esteemed establishments have garnered prestigious regional and international awards for their commitment to excellence in service, making Ras Al Khaimah an exceptional destination for leisure and entertainment.
Outlined below are some of the distinctive resorts and spas in RAK:
Located on the serene Marjan Island, Rixos Bab Al Bahr offers a stunning beach, 650 elegant rooms and suites, fine dining options, breathtaking views, and comprehensive amenities expected from a 5-star beach resort. It's conveniently a short drive from Ras Al Khaimah and Dubai, making it an ideal choice for both UAE residents and international visitors.
Situated just minutes away from Ras Al Khaimah International Airport, this elegant resort blends traditional charm with modern facilities. Its guest rooms feature exquisite Arabic designs and private terraces with captivating views. The resort offers diverse international cuisine, water sports, health clubs, golf trips, and a dedicated kids club called "Flipper's Kids Club."
Embark on a magical Arabian adventure at Banyan Tree Al Wadi, located in Wadi Khadeja, a 45-minute drive from Dubai and 20 minutes from Ras Al Khaimah. This desert resort features villas with private swimming pools, surrounded by lush Ghaf trees. Guests can indulge in aqua treatments at the renowned spa and savor culinary delights from various restaurants. Activities include camel and horse riding, falconry, and shooting classes.
Hilton Ras Al Khaimah Resort & Spa
Experience an oasis on the northern tip of the Arabian Peninsula at Hilton Resort & Spa. With its 1.5 kilometers of private white sandy beach, the resort offers 475 stylish guest rooms and chalet suites, seven outdoor pools, a 24-hour fitness center, and a beach club. Recreational activities such as horse riding, quad biking, and golf are available, and the concierge can arrange desert exploration and mountain safaris.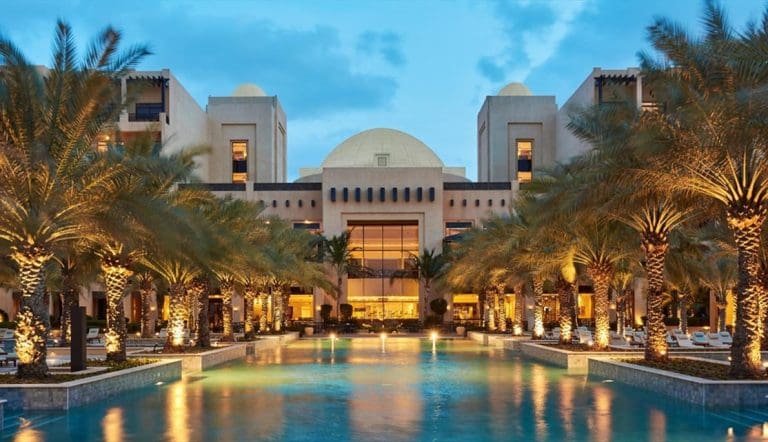 DoubleTree by Hilton Hotel Resort & Spa, Marjan Island
This contemporary resort in the Al Nakheel area offers 112 rooms, suites, and a range of facilities including a swimming pool, spa, kids club, water sports center, and a private beach stretching 1.5 kilometers. Visitors can also explore the traditional lifestyle of UAE's nomadic tribes, enjoy scenic flights, or visit the National Museum in Ras Al Khaimah.
Mangrove by Bin Majid in Ras Al Khaimah
Nestled near Al Corniche Hall on Al Khor Road, the exquisite 4-star Mangrove Hotel provides an opportunity to enjoy the beauty of lush green mangrove trees and the azure Gulf waters. The hotel features 186 tastefully furnished rooms and suites with stunning views. Guests can indulge in spa treatments, utilize the gym and swimming pool, and savor a variety of international cuisine at the hotel's restaurants. Safari trips are also available for a delightful adventure.
Waldorf Astoria Ras Al Khaimah
Located on the beachfront, just 50 minutes from Dubai, the luxurious Waldorf Astoria Ras Al Khaimah offers a plethora of facilities and activities, including a waterpark, sailboat cruises, shooting sports, and safaris. With 346 rooms and suites overlooking the Arabian Gulf and the majestic Hajjar Mountains, the hotel provides exceptional culinary experiences, natural spa treatments, a fully equipped gym, tennis court, water sports activities, and a golf course.