Ras Al Khaimah, one of the emirates forming the United Arab Emirates (UAE), became a part of the UAE on February 10, 1972, following its formation on December 2, 1971. The UAE consists of seven emirates, including Abu Dhabi, Dubai, Sharjah, Ajman, Ras Al Khaimah, Umm Al Quwain, and Fujairah, with Abu Dhabi serving as the capital. The UAE operates under its own permanent constitution, which outlines the fundamental principles of its political system and the objectives of the federation.
The governance of Ras Al Khaimah is overseen by a local government led by His Highness Sheikh Saud Bin Saqr Al Qasimi, a Supreme Council Member and the Ruler of Ras Al Khaimah, along with Crown Prince Sheikh Mohamed Bin Saud Bin Saqr Al Qasimi.
Ras Al Khaimah, previously known as Julfar, has a rich history spanning several millennia, with evidence of human habitation throughout this time. Numerous historical and archaeological sites have been unearthed across the emirate, showcasing remnants from various periods, including traces of the Umm an-Nar Culture from the 3rd millennium BC. In recent years, ancient graves have also been discovered in the emirate, with the latest findings reported in October 2012.
Presently, Ras Al Khaimah is home to numerous heritage and tourism sites, as well as being recognized for its fertile agricultural land, which surpasses that of other emirates. In addition to a thriving tourism sector, Ras Al Khaimah boasts a vibrant industrial sector. With ambitious development plans underway, the emirate envisions a promising future marked by growth, progress, and excellence.
Ras Al Khaimah is geographically divided into five administrative areas, each serving distinct purposes:
The First Area: Ras Al Khaimah City encompasses both the historic and modern sections of Ras Al Khaimah. This area extends to Al Jazirah Al Hamra, located approximately 14 kilometers away from the city center.

The Second Area: The Northern area includes Shaam, Ghalilah, Al Jeer, Al Ramas, and Al Shamal. These regions are situated in the northern part of Ras Al Khaimah.

The Third Area: The Southern area comprises Massafi, Kedra, Al Huwaylat, Al Ghail, Uthun, Asema, Dafta, and Rafak. These areas are located in the southern part of Ras Al Khaimah.

The Fourth Area: The Al Nakheel area, previously a popular summer destination for residents of Ras Al Khaimah and other emirates, is part of this administrative division.

The Fifth Area: This area stretches from Al Dhait South to Al Khatt town. It is a rural and agricultural region encompassing Al Kharran (located 13 kilometers from Ras Al Khaimah), Al Digdaga (23 kilometers), Al Humranya (28 kilometers), and Khatt (33 kilometers)
Ras Al Khaimah is positioned in the northernmost region of the UAE, situated between the latitudes of 25-26N and longitudes of 55-60E. It shares borders with the emirates of Umm Al Quwain, Sharjah, and Fujairah, while being bordered by Oman to the south and northeast. Notably, it is the only emirate that overlooks the entrance to the Arabian Gulf.
The emirate of Ras Al Khaimah boasts an extensive coastline spanning approximately 65 kilometers. Geographically, it lies in the far eastern part of the Arab World and holds proximity to the strategically significant Strait of Hormuz. Furthermore, it is the closest emirate to the Islamic Republic of Iran and the former republics of the Soviet Union.
Based on data from the RAK Center for Statistics & Studies, the estimated population of Ras Al Khaimah (RAK) stood at 345,000 in 2015. The number of live births in RAK experienced a notable increase of 12%, with 4,557 newborns recorded in 2015 compared to the previous year. Conversely, the occurrence of stillbirths saw a significant decline of 32%, totaling 15 cases in 2015.
Ras Al Khaimah offers a diverse range of environments, providing abundant opportunities for businesses and housing options.
Ras Al Khaimah is blessed with expansive sandy beaches and a coastline adorned with vibrant coral reefs. Stretching from the Shaam area, near the entrance of the Arabian Gulf and the Strait of Hormuz, to its borders with Umm Al Quwain, this coastal region is teeming with marine life. The Arabian Gulf waters provide fertile grounds for fisheries, supporting a wide variety of fish species. The coastal area is also a haven for over 3,500 bird species, including migratory birds. Bird Life recognizes this coast as an important site on the international bird migration route. Al Jazirah Al Hamra extends along five kilometers of the coast, featuring mudflats and sandy bodies.
Ras Al Khaimah boasts vast desert landscapes and stunning sand dunes characterized by their reddish hue. The emirate's deserts are adorned with desert plants and Ghaf trees (Prosopis cineraria), offering a captivating and refreshing experience for those exploring the region. The deserts were once home to abundant wildlife, including deer and desert foxes. However, changes in the ecosystem have led to a decline in their numbers. To protect the indigenous wildlife species, the UAE Government and Ras Al Khaimah have implemented regulations.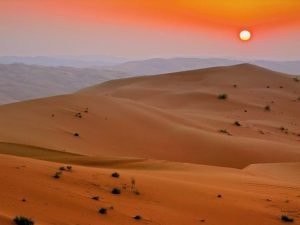 The mountainous regions, especially those close to the sea, showcase towering heights and impressive rock formations. With breathtaking natural scenery and moderate temperatures throughout the year, these mountains make Ras Al Khaimah an ideal summer destination. The area is home to rare plants and fascinating wildlife, including Arabian leopards and caracals.
Plains in Ras Al Khaimah, located at the foothills of the mountains, are adorned with Samar trees (Acacia tortilis) and savannah. These expansive plains serve as vital habitats for human life and act as breeding grounds for certain migratory bird species. Enriched with historical monuments and forts, this region is rich in significant historical sites.
Ras Al Khaimah's fertile agricultural lands span vast areas, with greenery adorning the mountaintops. These lands have played a crucial role in the emirate's history, providing abundant produce for the UAE markets and serving as a food source for other emirates. Additionally, these rural lands serve as vital environments for the local population and provide refuge for migratory birds.